Painting Pine - Part 2
Posted on
Hello again. Welcome to the second and final stage of painting a pine chest of drawers.
So, now that I'm prepped and ready to go, it was time to start painting.
I opted for Annie Sloan's Chalk Paint in Old White on this one. I knew the style of the design I was aiming for, so a soft white colour with a little distressing was the way to go. I applied my first coat to the drawer front and sides and the carcass. Still undecided with the top, I left this as is with the option of either painting, staining or varnishing it afterwards. As the project went on, I waited to see how it was going to look before I made a decision.
My first coat of paint went on with a decent coverage because of the thickness of AS Chalk Paint. However, as the paint dried I noticed some discolouration seeping through. This is because I had sanded in places too heavily and gone through the varnish. Pine has a tendency to bleed from it's natural finish. So, before I could continue I had to block these areas otherwise they would keep seeping through each layer of paint. I used my Zinsser BIN again for this job.
After allowing sufficient drying time (overnight in this case), I applied my second coat. This needs to be thinner than the first coat otherwise it's too thick to apply and will cause brush and drag marks. I thinned the paint down by dipping the tips of my brush into water before the paint. Some people like to thin the actual paint itself slightly - it's all down to personal preference.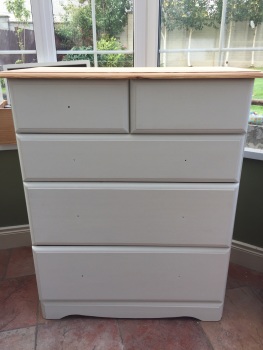 The chest of drawers received three coats of paint in total. I prefer to apply thin coats rather than one thick one - again it's down to personal preference. Lighter colours do tend to need an extra coat or two.
And now I'm ready for a gorgeous new transfer that I have purchased. This is a relatively new transfer from Iron Orchid Designs in the US and it's just stunning. (I bought several because I just couldn't resist). This is a speciality rub on transfer that is for larger pieces of furniture.
Typically, I picked a chest of drawers that had a curve on the edge of each drawer. This made my job very fiddly when applying the transfer, so it took rather a lot of time and patience. However, I think you'll agree that the end result was very much worth the time.
To keep the transfer in place I used a special painter's tape called Frog Tape. This is a low adhesive tape that can be used on freshly painted items and doesn't damage the paintwork or leave a sticky residue. Once I was happy with the placement of the design, I secured it and sliced the transfer along the gaps where the drawers are. This would help me rub the transfer on to the curved edges of the drawers.
This transfer can be cut with a sharp blade or scissors and you can use whatever parts of it you like - depending on the size of your item. However, as you can see, the full image is very striking and worth keeping as a whole.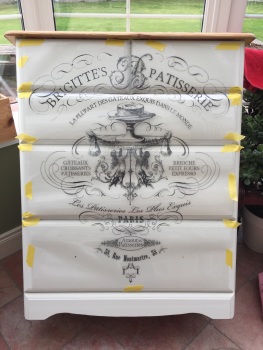 About an hour later I had managed to transfer the image from the vinyl sheet onto my chest of drawers. Then it was time to seal it all into place to avoid future damage or scuffs to the paintwork and/or the image itself. I started to apply thin coats of non-yellowing clear polyurethane Sandolin varnish on this piece. This is my first tin of this brand of varnish, but I am really happy with it and have used it on white before so I was confident that it wouldn't yellow. Also, it's a water-based varnish, which must be used on water-based paints. In my experience, oil-based varnishes tend to react with water-based paints and leave a yellow tinge. I only ever use water-based products (with the exception of Zinsser BIN) because they generally offer a low VOC (Volatile Organic Compound) - low odour, low chemical composition that evaporates easily at room temperature. This is important if you are not able to ventilate your working area easily due to climate etc.
Now that my transfer was in place, I decided to keep the pine top in it's natural finish. Again, I sealed this with the same varnish as on the paintwork. I applied three coats on the paintwork and 5 coats on the top only.
The final part of the jigsaw was the handles. The original knobs were chunky pines circular ones and not only blocked the image, but cheapened the finished look. I checked my own small supply of knobs and came across a set that I had forgotten about. I had dangly knobs in mind, but when I found these white ones I knew they would be perfect. Surprisingly, the right or wrong knobs can really make or break your piece.
So, after purchasing longer screws to fit through the pine drawers and fit the knobs I found that they were too long. (Nothing is ever straight forward!). After working out the length I needed it was a quick job of cutting the new screws down to size using a hacksaw. Not a difficult job, but a fiddly one. A fellow upcyclling friend suggested placing the screw where a drillbit goes and turning the drill on over the hacksaw to cut it in seconds. Although this was a great idea, it didn't fully work for me. (Large teeth on the hacksaw I think). However, using the drill to hold the screw in place while sawing the screw definitely helped. I even got hubby to help out on this one.
And there we have it. From orangey, dated pine to a freshly painted, functional piece of furniture - including image transfer, varnish and new knobs. What a difference some paint and a little imagination can make. Now my hardwork was complete and just a bit of staging required for some great photos (that's a whole new challenge and a blog for another day - lol).
I hope that you've enjoyed my first project discussed in a blog form. As you can see, painting furniture isn't as quick or as simple as you would think. From the initial cleaning right through until the sealing of your creation, each process is important and takes time. Every item of furniture brings its own challenges and nothing is every straight forward - but every piece always ends up being UNIQUE.
Thank you for reading my blog and feel free to comment or ask questions. Take care and see you soon. Bev