Picking the Right Furniture Upcycler
Posted on
It's been a long time since my last blog and what, may you ask, am I going to talk about today? Well, I'm going to have a moan! I don't do it very often (I'm sure my family will disagree on that one), but today is the day.
A few commissions of mine lately have been previously upcycled items. Don't get me wrong - this can happen due to change in style/taste etc. However, a complete overhaul is not what you'd expect because the paintwork is rubbing away and cannot be cleaned properly and it's owner has had to get covers to hide them.
With the trend in chalk and mineral paints and the multitude of brands on the market, you will always get professionals and non-professionals. You, as a potential customer, need to know what to look for in a professional upcycler.
Some will tell you that chalk paint is not durable, but that is not necessarily true. Chalk paint needs to be sealed and it's what you seal it with that matters for the item in question. However, this is just the last piece of the jigsaw, there are many other factors to take into consideration on one project. A good upcycler will know what's involved from start to finish on each individual item of furniture and deal with any unexpected hiccups that may occur along the way.
So, what exactly am I moaning about? Well, it's this.......
My client previously paid an upcycler to paint her dining set. Now, years later, she is having to pay someone else (me) to redo it. Luckily the chairs and table are of great quality and solid, so replacing them would be silly. Now, my job is to remove the wax and paint so that I can start from scratch. (This is also costing my client extra €). Upon removing the seat pads at the outset, I can see that the previous upcycler didn't bother with this process and just painted the slats as far down as they could squeeze their brush in. Hence, leaving wood still visible in places and also leaving paint on the rear of the seat pad. There are also numerous lumps, bumps and drip marks to be found.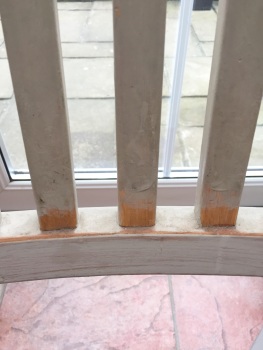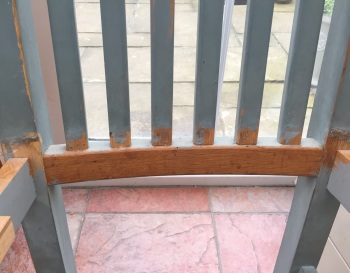 When less-than professional work is given back to the customer, it doesn't bode well for the upcycling community as a whole. I have heard many people refer to upcycling as just 'slapping on a bit of paint'. If only it was that simple!
As a customer, you need to be aware that, as in any trade or profession, there are those ripping you off, others that try their best and then there are those that DO THE BEST!
There are no right or wrong paints to use, but understanding the customers requirements and needs is what will determine the right brand/finish for their furniture.
If you're thinking of having your furniture painted, don't be afraid to ask an upcycler questions about the products they use, the process involved, references from previous customers etc. Whether or not you have a great eye for detail yourself, make sure that your upcycler does. You are paying for a job well done.
You may think that a hiring a professional is expensive, but that's nothing to what an amateur will cost you!
There are lots of considerations to bear in mind when getting your furniture painted. This list can help advise you and might just make the process a little easier if you know what to ask for.
https://www.revamped.ie/furnituregallery.html
Bye for now. Bev