Halloween Pumpkins with a difference!
Posted on
Hi and welcome to another blog. This time we're talking about pumpkins and this is something everyone can try.
I've seen many painted pumpkins over the years, but have never painted one myself. So this year I decided to have a go. It's really quick and easy to do and something different for you - oh! and the kids too (yes, all that candy and dressing up is only for kids). These are especially fun if any younger children are not fans of the spookier version.
I initially soaked my pumpkins overnight in a bowl of cold, bleached water. I read about this on the internet, as it apparently helps clean and preserve your pumpkins. As these will be staying in a dry, but warm house, I decided I'd give it a go just in case. Remember to wear an apron for this so that you don't get bleach on your clothes. (That wouldn't be a good start).
After they had dried off I gave them a coat of paint using two different brands. For this project I used General Finishes Milk Paint in Queenstown Grey and Frenchic Wolf Whistle (Lazy Range) and Mother Duck. All pumpkins received 2 coats of each. I probably could have got away with one coat if applied thicker, but was happy to do two.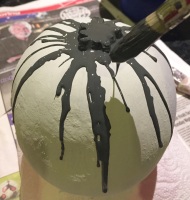 Then it was time for a quick play. The pumpkin in the duck egg colour needed a quick coat of wax to seal the paint then I used the grey and off-white to make polka dots. Being the absolute professional I am, I used the base of one of my paint stirring sticks to do this. (Who needs expensive gadgets!). The GF milk paint is self-sealing so the biggest pumpkin (grey) didn't need sealing with wax. The small pumpkin was done in the lazy range which has wax infused in the paint, so no need for sealing there either. I dribbled the GF grey on this one using a small paint brush to control it better. A quick burst with a hairdryer helped move the paint a little more and dry the drips quickly.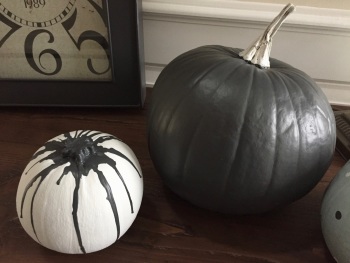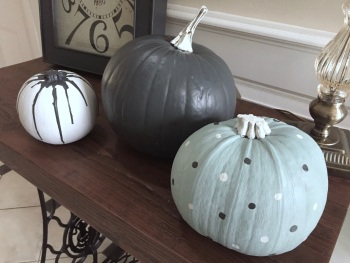 These colours are in hallway, so my pretty pumpkins are going to live there on my console table (made from an old Singer sewing machine base) for the next week or two. Although I think they're fab, I have to say my two (we're too old for trick or treat-ing) teenagers were not impressed at all. I think the comments were along the lines of "Oh my god! You didn't paint pumpkins did you?" followed by "Must you paint everything that doesn't move". Ha ha! Why not!
Importantly for me, this project was a lot quicker and not anywhere near as messy as carving pumpkins. Why not let the kids have a go. I'm sure good old emulsion would work just as well - after all they won't be around too long anyway.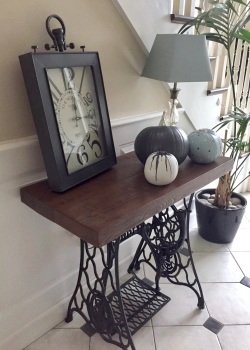 Lots of ideas can be found online - you can decoupage leaves onto your pumpkin, melt crayons over the top, paint faces, stripes - the possibilities are endless AND they will still look fab for a little while even after Halloween has been and gone.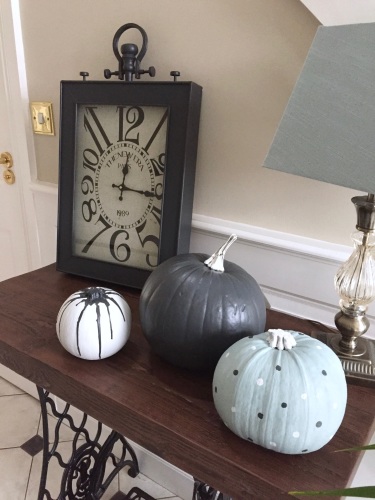 Happy Painting and Happy Halloween!