What's All The Fuss About....
Posted on
For anyone who is into decorating and upcycling you will have noticed that there's been a little bit of a buzz around lately about rollers - yes, white fluffy painting rollers.
If rollers aren't your thing, you need to stop reading now!
I'd seen the hype on Instagram and Keith at Butler and Dunne very kindly sent me two rollers to try out, so that's exactly what I did and here's a quick review on what I think about them.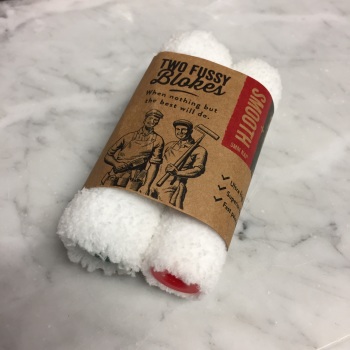 I was a bit sceptical at first, because in my experience this style of roller tends to hold a lot of paint which leads to a marathon washing session at the end. Also, they leave little dimples in your paintwork. So....... how fussy are these Two Fussy Blokes?
Firstly, I used the Semi 10mm nap roller (the one on the left above) just to give my shop door a touch up. As it's such an old building and an old, skinny door it's received quite a few scuffs since last Summer so a touch up was all it needed. Using Fusion's Cranberry, the roller picked up the paint really quickly and evenly and went on seemlessly. It took me mere minutes to paint over both doors and the roller didn't leave any tramlines or edges.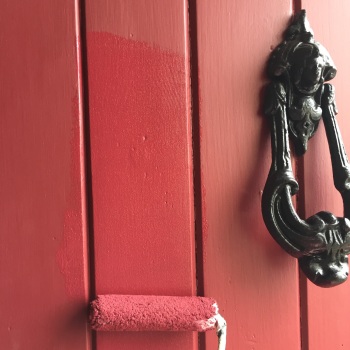 Secondly, I tested the Smooth 5mm nap roller (on the right above). This has half the density of the Semi roller which is quite noticeable in comparison to it's older brother. As it's called Smooth I wanted to try this on an MCM commission, the perfect test.
Needless to say I wasn't disappointed with this one either. I was using Fusion's Ash on this piece and as those of you know who use darker shades regularly, they can be quite unforgiving. I won't discuss how it went, I'll let you decide for yourselves from the photos below.
(NB: I also applied a satin varnish over the Ash, at the client's request, using the Smooth roller too).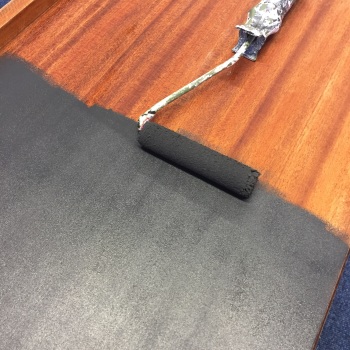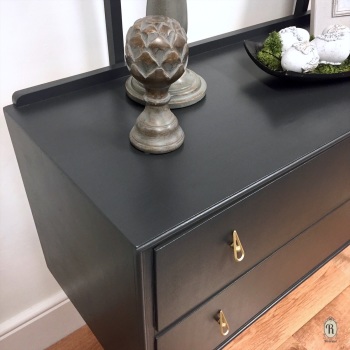 As a user of a paint sprayer sometimes myself, this is probably as close as you're going to get to a smooth, spray-like finish without actually spraying. Win, win!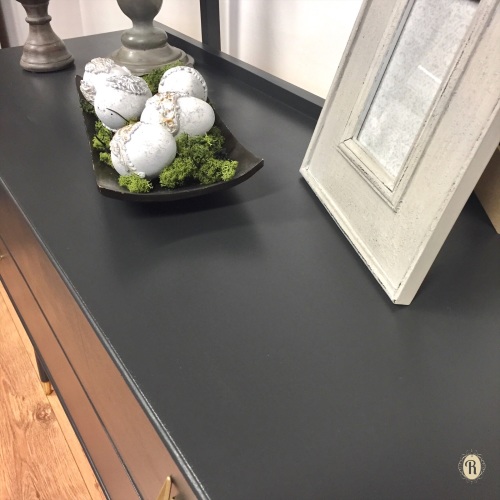 And last, but not least, the dreaded clean up.
Did they take forever to clean - NO!

Do they soak up enough paint that could cover the side of a building - NO!

Did it take me less time and water to clean up - YES!

Is the packaging recyclable - YES!

Are the Two Fussy Blokes as fussy as me - YES!
Roll over my old faithful sponge roller, the Two Fussy Blokes are my new painting friends. So much so, I'm delighted to be stocking them for myself and my customers, who will definitely appreciate how easy and reliable they are.
If you have any questions, please feel free to leave a comment or get in touch.
Bye for now
Beverley